CREATE (Creative Residencies for Emerging Artists Teaching Empowerment) is a student-led group that promotes arts-based services. Through CREATE, Berkeley undergraduates teach classes in visual arts, theater, dance, and/or creative writing to meet the enrichment needs of local schools and community organizations. CREATE students are mentored by a teaching artist in their discipline, who advises them on curriculum design and age-appropriate activities. Participating in CREATE is a great way to learn from an experienced educator while having the opportunity to design and teach your own class.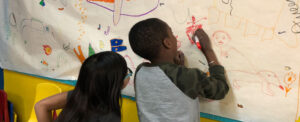 Supporters
CREATE's artist educator mentorship is supported by the City of Berkeley's Civic Arts Grant Program.
Important Dates
CREATE recruits students at the beginning of each semester. Find out more about CREATE here.
| | |
| --- | --- |
| Application | Apply here! |
| Application Deadline | Saturday, Sept. 4 @ 11:59pm |
| Interviews | Tuesday-Friday, Sept. 7-10 |
| Membership Offers | Saturday, Sept. 11 |
| Orientation | Monday, Sept. 13 @ 6:30pm-8:30pm |
| First Meeting | Monday, Sept. 20 @ 6:00pm – 8:30pm |
Contact Information
For more information, contact calcreate@gmail.com or view CREATE's website.
CREATE student program managers:
Connie Liu and  Tannya Tang
CREATE teachers participating in dance workshop led by guest artist Jill Randall
---
 
"CREATE was my entryway into supporting education in my community. It helped me find my path in social justice work here at Cal."

Elvira Andrea Morales Molina, Class of 2018, Major in Society and Environment
Hometown: Turbaco, California