This 10-month paid post-undergraduate fellowship supports one recent graduate from UC Berkeley in discovering their personal path to peace through immersive service supporting a partnership between Berkeley High School and Berkeley City College to increase college access. The selected fellow will join a group of students from other leading universities across the United States to animate the Shinnyo-en Foundation's Infinite Paths to Peace Initiative.

Supporters
The Shinnyo College Access Fellowship is generously supported by the Shinnyo-en Foundation.
Important Dates
Fellowship Description
Read more
Online Application

Closed for the 2023-2024 school year.

Please check in Spring 2024 for application to serve as the 2024-2025 Shinnyo College Access Fellow.
Fellowship Details
In this fellowship, the Shinnyo Fellow will support college access and awareness. They will work directly with the dual enrollment program at Berkeley City College (BCC) which allows Berkeley High School students to take college courses at BCC for free. Through this program, high school students earn transferrable college while gaining exposure to the culture and expectations of a college experience. The fellow will focus on recruiting and advising would-be first-generation college students.
The Fellow meets regularly with a PSC staff adviser for coaching/advising and with a staff member at Berkeley City College who will supervise their daily work.
They will be expected to maintain a service journal (video, audio, written) and to complete a final project documenting their service journey during the Fellowship. This project may be a video, a paper, or a presentation that shares learnings that could be relevant to others in the peacebuilding movement.
2023-2024 Shinnyo College Access Fellow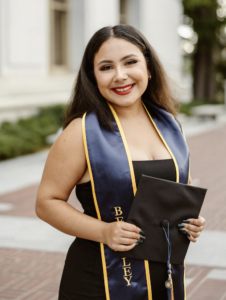 Vanessa Torres (she/her) is a recent graduate from UC Berkeley where she obtained a B.A. in Ethnic Studies and Legal Studies. She grew up in a small city in Los Angeles known as Lawndale, CA (about 15 minutes away from LAX). As the only daughter of immigrant parents, this really shaped her understanding of the world around her and the systems she's impacted by. Growing up, Vanessa was always passionate about community work and educational access for communities of color. She took this passion to her undergraduate career at Cal and worked alongside a student-run student-led organization called the Raíces Recruitment and Retention Center that works alongside six other multicultural resource centers. In her four years working with the center, she created and supported programs to expand resources, foster retention & demystify higher education for the Latinx community at Cal and all around California. During her time as the retention coordinator, she prioritized welcoming Latinx students and their parents to promote a sense of community and belonging during such a monumental transitional period for a lot of first-generation students. Through her work within the space, she realized how transformative and crucial college access work was and hopes to continue cultivating a culture of empowerment for youth of color through higher education. Now, Vanessa is excited to work alongside students and foster a sense of community and empowerment while addressing educational disparities with Shinnyo-en Foundation as the newest Shinnyo College Access Fellow.
Contact Information
For more information, contact Associate Director, Cassy Huang at cassy@berkeley.edu.