Alternative Breaks offers service-learning trips for students to explore a social justice issue through hands-on service supplemented with education and reflection. Trips run during spring breaks and explore issues like immigration, environmental justice, public health, or poverty. Participants take a DeCal class before their trip to learn about the issue and the community partners they will be working with and to get to know each other.
Break Leader Retreat Weekend, Fall 2018
Supporters
Alternative Breaks (Alt Breaks) has benefited from the generous support of the Associated Students of the University of California (ASUC), and the benevolent support of individual donors and alumni. 
Important Dates
Application

Note: Puerto Rico trip and San Diego trip are full and closed

Apply here!
Deadline
Rolling
Contact Information
Rachel Georgian, Communications Director
berkeleyaltbreaks@gmail.com
Kathia Osuna, Community Partnerships Director
partnerships.altbreaks@gmail.com
Pammy Kazi, Finance Director
finance.altbreaks@gmail.com
Gilberto Ramirez Aguilar, Special Projects & Development Director
berkeleyaltbreaks@gmail.com
Rosa Enriquez, Interim Program Manager
RosaLeeEnriquez@berkeley.edu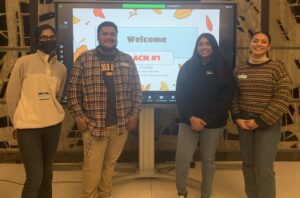 2022-2023 Alternative Breaks Director Team