CREATE (Creative Residencies for Emerging Artists Teaching Empowerment) is a student-led group that promotes arts-based services. Through CREATE, Berkeley undergraduates teach classes in visual arts, theater, dance, and/or creative writing to meet the enrichment needs of local schools and community organizations. CREATE students are mentored by a teaching artist in their discipline, who advises them on curriculum design and age-appropriate activities. Participating in CREATE is a great way to learn from an experienced educator while having the opportunity to design and teach your own class.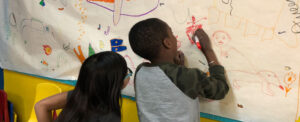 Supporters
CREATE's artist educator mentorship is supported by the City of Berkeley's Civic Arts Grant Program.
Important Dates
CREATE recruits students at the beginning of each semester. Find out more about CREATE here.
| | |
| --- | --- |
| Application | closed |
| Application Deadline | Sunday, Jan. 30 @ 11:59pm |
Upcoming Events
CREATE will be in two upcoming Berkeley Arts + Design panels! Come and join us!
How can art and design make a social impact and build community? How can you get involved in creative discovery and community service? Join us for a conversation with undergraduates from wide ranging disciplines who are deeply involved in campus projects or programs that use arts and design to engage communities.
Friday: April 1st
4:00-5:00pm @ Zoom
Register for Zoom panel
here
CREATE (Creative Residencies for Emerging Artists Teaching Empowerment) will discuss experiences and anecdotes from club members teaching online and transitioning to in-person in the past year, how online education exacerbated disparities and how we can close those disparities now.
Friday, April 8th
12:30 PM – 2:00 PM @ BAMPFA Osher Theater
Contact Information
For more information, contact calcreate@gmail.com or view CREATE's website.
CREATE student program managers:
Connie Liu, Grace Hunzicker & Tannya Tang
CREATE teachers participating in dance workshop led by guest artist Jill Randall