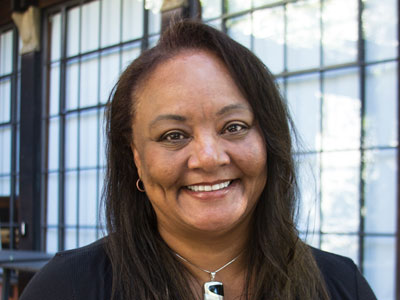 Summer 2016
It's exciting to see students come alive through their service to others. This year, over 150 student leaders and 5,000 student participants continued to address some of our country's most intractable problems. Through their service, students experience the relationship between academic learning, personal development, and social transformation. As you will read in the profile of alumnus Martin Perez, the experience of working with two Public Service Center programs gave him the confidence and skills to assume a leadership role in any situation, and also connected him to his passion for — and career in — education.
The Public Service Center continues Berkeley's tradition of service, and is paving new ways of making a difference. As you will read in the article, "The First of Its Kind," UC Berkeley was honored this year to be chosen as the site of the 2015–2016 Clinton Global Initiative University (CGIU), recognizing Berkeley's historic role as a leader in student-initiated public service. The Center was also recognized with the Chancellor's Award for Public Service for the achievements of its forward-thinking Volunteer Income Tax Assistance Program.
This year, the Public Service Center also launched Bridging Berkeley, a math mentoring program designed to improve common core math skills. As you will read in the student profile of Amber Perkins Ellis, many of the Public Service Center leaders dedicate themselves to educational equity. The new math mentoring program is a companion to the center's effective reading program, Berkeley United in Literacy Development (BUILD), which you will read more about in the profile of Brian Rogers, a Berkeley alumnus and BUILD champion. In its first year, Bridging Berkeley provided more than 800 math mentoring sessions in Berkeley public schools. All of the center's programs represent what is at the heart of Berkeley campus culture: inspiration, cooperation, and commitment to action.
Next year the Public Service Center will be celebrating its 50th anniversary. Since 1967, the Center has been an innovator in engaged scholarship, student-initiated programs, and community partnerships. The Public Service Center has served as the heart of civic engagement at Berkeley, connecting faculty, students, and community organizations. We are looking forward to numerous anniversary-related events over the next year to celebrate the successes, hard work, and dedication of our faculty, students, community partners, and donors, as we continue to work for social justice and transformative social change. We invite you to share your public service story.
Sandra Bass, Ph.D.
Assistant Dean of Students and Director