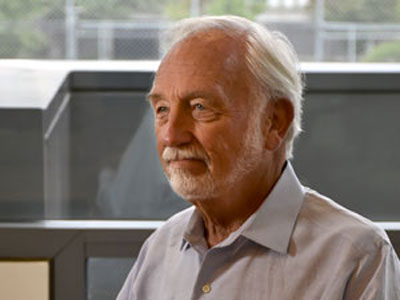 "The point of a university and the point of building a community is to bring people together. And that was the goal of the Community Projects Office." So recalls John Gage, the first student coordinator in 1967 of what has evolved into the UC Berkeley Public Service Center. John attended what he called "a very conservative" high school in southern California, where he noticed that students would self-segregate. "Everyone who has gone to an American high school knows what I'm talking about. Members of Future Farmers of America — when they ate lunch, they ate over there. The football team ate over there. The socialites ate over there. The surfers ate over there. Seeing how people segregate themselves voluntarily to be with people who are very much like them always made me think there's a power in bringing people together outside their normal orbits."
When John arrived at UC Berkeley in the 1960s he noticed a similar pattern — many Berkeley students didn't know what it was like to live a few miles away in west Oakland. John considered meeting people different from oneself, understanding how people from outside one's inner circle, on campus and beyond the campus — how they thought and lived — to be an integral part of the Civil Rights movement and to personal growth. "So when I began the Community Projects Office, the idea was to bring thousands of Berkeley students into the communities surrounding Berkeley. Meet people. Talk with people. If you didn't make an effort to do that, you would never in your daily course of life meet anybody." Through tutoring, Berkeley students learned about the lives of community members in Oakland, systemic issues that affected them, and social justice.
There were a number of tutoring programs run by multiple community-based organizations in Oakland, and John and some of his fellow students thought tutoring was a good match for Cal students who wanted to volunteer in the community — UC Berkeley students using their education to make an impact. John sought a small amount of seed money from the ASUC student union and the Community Projects Office was born. The new student group recruited hundreds of students as reading mentors for primary school students. John recalled the experience as transformational — "a life change" — for Cal students who thought they were going to do "something simple": tutor. "And suddenly you realize you're in a community you've never been in before. You're dealing with an institution that has laws and insurance programs and regulations. So it's not just going down to help a kid for two or three hours learn to read. It's learning about that kid's life, their parent's life, their family's life, the community's life, and how institutions have evolved. And that's an understanding you would never gain by not becoming involved." Through staffing local existing tutoring programs, the students built relationships with people throughout Oakland.
While the Community Projects Office maintained a core of tutoring, it also grew to encompass hundreds of other projects — some of which lasted a semester; some of which lasted a day. Soon around 2,000 students from throughout campus were involved.
Community Projects Office (from 1967–68 yearbook): John Gage, Beth Grossberg, Les Hausrath, Terry Hill, Jane Allen-Petrick, Jon Schiesel, Glen Barnes
The central location of the Community Projects Office in Eshleman made it easy to recruit; word of mouth was the primary recruitment method. Students who had a rewarding experience would tell others. "Someone completely removed from any world that I knew — a member of the football team or a member of the crew team — would say, 'You know, I saw that possibility to be a tutor and I think I'd like to do it.' So what struck me was if you put up an opportunity for people and you think you understand who's going to see it, you're wrong."
John Gage — a technical innovator who would later become one of the founders of Sun Microsystems, where he coined the phrase "The network is the computer" — likened the power of word-of-mouth recruitment to the power of today's social media. "The power of having a community of students validate a project and discuss how much they gained from it, and how much they felt they contributed — that power now is reflected in Twitter and Facebook, where a momentary opinion can sweep across millions of people. So we're watching what in some sense we began as an outreach program in Berkeley, now have global outreach possibilities."
To let students know about volunteer opportunities, John filled a wall with index cards. Each card featured a different volunteer opportunity. "People would come read the wall and sign up." He recalled that students relished the opportunity to do something that used "their university education to practically alter people's lives." Today, the Public Service Center continues to serve as the heart of civic engagement and the public service voice at Berkeley. Each year, about 5,000 students contribute more than 140,000 hours of service to almost 190 projects.
After graduating from UC Berkeley, John Gage went on to be an innovator in technology and computing; served on national scientific advisory panels; and continued to be deeply involved in philanthropic efforts to improve lives throughout the world.
He recalls his time at Berkeley and his engagement with public service as "a pathway to deeper understanding." He believes that learning and understanding other people — the way people from other communities, cultures, and nations think — is related to more than civil rights, it is the key to success in today's world.
John Gage talks about recruiting students to volunteer in 1967.
When asked about his advice to today's students, John captures the essence of his own experiences with public service. "We're all woven together. Involve yourself in something that is a different world than the world you know. Expand your life into other people's lives. And it's clear the benefits. And it's clear the learning opportunities. And I guarantee you, something unexpected will happen."