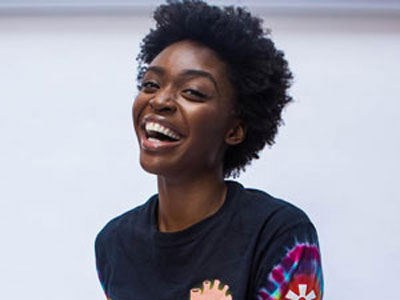 Over 50 years ago, Berkeley students went to Mississippi to fight for voting rights. Today, the right to vote is still at risk. Last summer Public Service Center students traveled to North Carolina, a state at the epicenter of the current fight for the franchise, to work with community organizations on voter education and outreach. Here one student shares her story about this transformational experience.
I did not consider myself an activist for social justice. I am too anxious for protests, at a loss for words in certain arguments, not radical enough in my beliefs, do not speak out enough. But I too have the same dreams of liberation.
I had not served my larger community as a college student in a direct way until I came to North Carolina to get people to register to vote. I never thought I would be the person going from door to door, trying to get people to open it, feeling a little defeated each time there would be no answer. It was then that I understood that social activism is not just the protest, but also the work that is being done within our communities.
The most beneficial aspect of the trip was its healing nature. I did not expect it to feel like a reconnection between my spirit and my body. I did not actively seek a moment in my life that would shake the depths of my being with feelings of passion, rage, humility, and pride, yet the trip gave me a newfound energy pulsing within, ushering me to do something. It was a swirl of learning, observing, and listening, mixed in with great company, new friends, and pride.
I take myself back to North Carolina to remember the visit to a slave plantation and what it felt like to step on land that holds a dark past. I remember the sight of the whipping post, a magnolia tree that was a living witness to death. We are absolutely correct to protest. However, we cannot win if we forget the fight of the past and its relevance in our present, our future. My vote — as one of the descendants of people who for hundreds of years had been told they had no right to participate — is an act of radicalism.
Ozichi Emeziem, Class of 2017, Major in Comparative Literature and Ethnic Studies, Hometown: Antioch
Born out of the passion of students committed to creating a more just and equitable world, the Public Service Center (PSC) is the heart of civic engagement at Berkeley. Through the Center, students, faculty, and communities work together to promote transformative social change and grow our next generation of civic leaders. In 2017, the Public Service Center —formerly known as Cal Corps — celebrates its 50th anniversary, a unique opportunity to honor Berkeley's legacy of student leadership, community engagement, and public service. To celebrate the 50th anniversary and honor the legacy of public service at Berkeley, please give today.