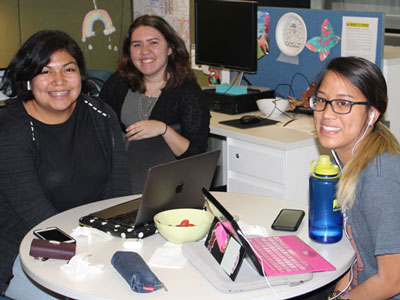 From left to right: Public Service Center student leaders Laura Zapata, Linnae Schroeder, Vivian Nguyen
Transfer student Calixtho Lopes, class of 2017, had experienced periodic homelessness as a child. So it meant a lot to him to find the Public Service Center, of which he says "as corny as it sounds, it has really been a home away from home." While Calixtho appreciates how the Center helped him grow as a leader, gain a better understanding about his identity, and learn to connect academic study and practice, what he valued most of his experience with the Public Service Center (PSC) was the compassion he received and the personal connection he made with fellow students and staff. "Having the space where people genuinely care for you and your development I think is extremely important."
Calixtho Lopes explains what drives him to serve.
Calixtho's sentiments are echoed by many other students, who have also found a sense of belonging and family at the Public Service Center. Adena Ishii, class of 2014, also a transfer student, shared her enthusiasm for the Center in personal terms as well. "It's more than just a physical location. It's about the resources. It's about the support. It's about the community." Adena and other students share that the Public Service Center office is open 24/7, so they can spend all hours of the day and night there, working on their service projects, doing homework, seeking personal advice from staff, microwaving lunch, taking a nap, talking through struggles, and sharing feelings with fellow students. As Adena reflected on her time at the Center, "As a transfer student, it was really helpful to have a place to call home because Cal was just so different than community college."
Adena Ishii talks about what she's learned through the PSC.
At the Public Service Center, students build community through service: they simultaneously build community among themselves and build relationships beyond the campus. That was the spirit behind the origins of the Public Service Center, when it was founded by students in 1967. The first student coordinator of what was originally called the Community Projects Office, John Gage, wanted to bring Berkeley students and local community members together. "There's a power in bringing people together outside their normal orbits. The point of a university and the point of building a community is to bring people together." Through staffing local existing tutoring programs, the students built relationships with community-based organizations throughout Oakland.
Former ASUC president Daniel McIntosh shared the perspective about finding a community through service. As president of the ASUC in 1967, Daniel helped find the seed funding that enabled the Community Projects Office to get started. Of community engagement, Daniel reflected, "I Iearned that the university, which was very big and intimidating when I came here, could also be a community." Daniel referred to the era in which the PSC was born as a time when "students wanted to be taken more seriously as part of the community." Of continuing to give back to the community after his time at Cal, Daniel noted that "A lot of us just carried that off into our lives. We saw the communities that we landed in as places where we could have the same influence."
Daniel McIntosh reflects on what he gained from Berkeley and public service.
That feeling of building community, finding a home on campus, and contributing to creating a more just and equitable world, has consistently extended from 1967 to today. Transfer student Esteem Brumfield, class of 2018, noted that "The Public Service Center is a place where students come and connect with one another, and learn how they can be a difference in their community and in the world." The former director of the Community Projects Office, also known during the 1980s as Cal Corps, Roseanne Fong, made the same observation. When reflecting about the students she worked with, Roseanne recalled how students, including students who were "pretty shy," would find a sense of belonging through working on a service project. Students at the Center would come up with a service idea — often working in the neighborhoods, such as Richmond, where they grew up — recruit other students, and through that experience, as Roseanne observed, would both "build their community and serve the community."
Today the heart of this community building is the physical space of the Public Service Center in the new Eshleman. While students praise the welcoming spirit of the staff and current director, Sandra Bass, for making the Center a place where they feel connected and supported, Sandra gives credit to the students themselves. She observes how students will start coming into the Center around 4 or 5 p.m., doing homework, planning service projects, and by morning when she returns to work, they've created "fully developed works of art on the whiteboards" or they've made tear sheets that say "Take what you need" with strips that say Love, Courage, Support, Knowledge. "To me," observes Sandra, "it says they see that space as their own. You can tell that it just feels so comfortable for them." Just as students in 1967 took initiative to build community and understanding through service — and today's PSC student leaders continue to do so — it is the students who actively make the Public Service Center a home away from home for each other. As Sandra observes, "It's because of the way the students embody our space that it feels like a home." Calixtho Lopes sums it up best. Of the Public Service Center he says, "It really, truly feels like a family."