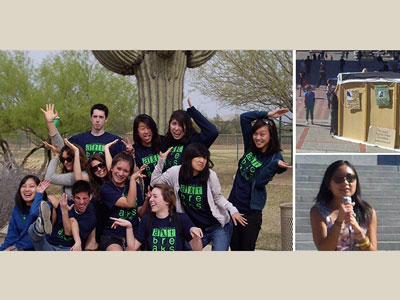 Bernadette Rabuy, a Political Economy student originally from South San Francisco, has been an active leader in several Public Service Center programs. In 2011, she participated in the Center's Alternative Breaks program (pictured above left in Arizona with her team), where students explored immigration and human rights issues along the U.S-Mexican border. The experience made Bernadette want to learn more about other political inequities in the United States. She found the Center's Magnolia Project and seized the opportunity to learn about community-based movements for justice in New Orleans. "Being able to participate in the Center's 10-year commitment to the Gulf Coast while also getting professional experience was a great way to spend my summer," she says. Interning at Voice of the Ex-Offender (VOTE) in New Orleans in 2011 taught Bernadette so much about the U.S. criminal justice system that she began to spread awareness about the system's shortcomings.
"I have learned to value the voices and the expertise of those who are sometimes silenced by society."
Upon returning to campus from New Orleans,she helped establish the Human Rights of the Incarcerated at Cal coalition (HRI), which increases awareness of incarceration in the Berkeley community. Bernadette worked with other students to bring a life-sized solitary confinement cell to Sproul Plaza (pictured above) and she continues to advocate for the end of solitary confinement. She now serves as the HRI facilitator and is also a member of the Public Service Center's Student Advisory Committee. She's maintained her connections to New Orleans, and returned to intern again with VOTE in the summer 2013.
Bernadette's goal is to work for a research-based nonprofit after graduation. She explains, "service is essential to my career plans because creating more equitable and just systems must depend on a firm understanding of and collaboration with those who are most impacted by these systems." Through her service Bernadette notes, "I have learned how to be a better leader. I believe that my communication and organizational skills have improved. I have learned to value the voices and the expertise of those who are sometimes silenced by society."