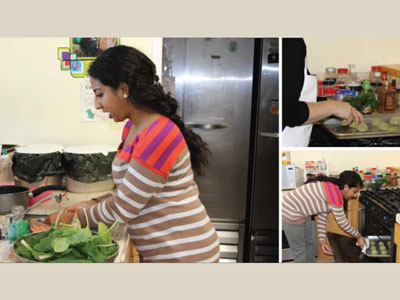 As a student at Cal, Sonia was a student leader with the Suitcase Clinic, a student group sponsored by the Public Service Center, and a strong advocate for Berkeley's homeless community. In 2011, she helped plan a Homelessness Symposium, bringing together more than 150 community partners, campus organizations, and local politicians to address homelessness in Berkeley. "It was great to see so many stakeholders get together to address this issue," Sonia recalls.
"Really try to work with other groups. Don't recreate the wheel if another group is doing good work already."
After graduating, Sonia became the Health Care Coordinator at Berkeley Food and Housing, where she manages health and other services for hundreds of clients at four shelters in Berkeley. As envisioned by Executive Director Terrie Light, Berkeley Foood & Housing takes a broad view on health. Services like cooking classes or the art class she helped establish at the women's shelter, have long-term benefits. Because of her previous experience working with the homeless community, Sonia already had relationships with local service providers, and she was able to leverage many of these connections in support of Berkeley Food and Housing.
Sonia says that many of the lessons she learned as a student leader—such as listening without judgment, identifying community partners, and facilitating productive meetings—have helped her succeed in her position. Her advice for current student leaders, like Tara Thwin-Palojor: "Really try to work with other groups. Don't recreate the wheel if another group is doing good work already, and build meaningful relationships."