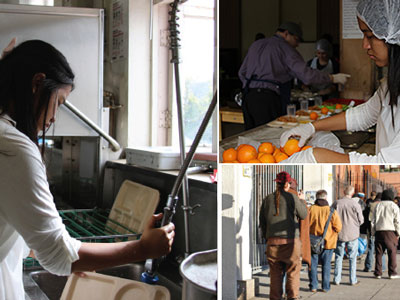 Growing up in Bangkok, Thailand, Tara often volunteered in impoverished communities with her mother. "I really care about marginalized groups," Tara says. "I'm moved by that sense of injustice, and I want to work in a field where I'm opening doors of freedom."
Her experiences sparked an interest in public service, leading her to the Bonner Leaders program. As an intern at Berkeley Food and Housing Project, Tara works with the staff, including alum Sonia Sajja and Executive Director Terrie Light, to coordinate volunteer schedules at several homeless shelters and publish a monthly newsletter that reaches nearly 400 student volunteers. That's no small task: every year, the Berkeley Food and Housing Project enlists hundreds of volunteers to serve nearly 197,000 meals.
Tara says her work with Berkeley Food and Housing has given her a deeper, more intimate understanding of the social and economic issues affecting Berkeley's homeless community. And as a prospective political economy major, these lessons transfer to the classroom. "The Bonner Leaders program supplements the education I'm getting," she says.
Tara has also grown as a leader: she says she's honed her communication skills, become more comfortable with public speaking, and learned how to work effectively with diverse groups of people. Although she's still a sophomore, she's excited to start a career in public service: "After coming to the Bonner Leaders program, I see that I have so many more avenues to explore my passion."