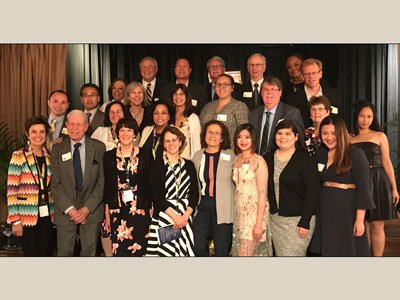 UC Berkeley students kicked off their summer in Washington, D.C., celebrating their arrival with Cal alumni and staff at the Cal in the Capital Alumni Mixer and the Cal Alumni Club Eight Annual Reception. This summer, Cal in the Capital boasts its highest number of participants at 77 students.
Founded in 1965, Cal in the Capital (CITC) trains and prepares UC Berkeley students annually for summer internships in Washington, D.C. Cal in the Capital interns come from all majors, including Statistics, Sociology, Political Economy, and Molecular and Cell Biology. In its 52nd year, 3,808 Cal in the Capital interns have contributed 1,633,689 hours of service in over 400 professional settings, including Congressional offices, federal and other government agencies, think tanks, nonprofit organizations, media centers, and research institutions, preparing them for careers in public service.
This summer, CITC interns embark their journey in professional settings such as Department of Justice, U.S. Department of Commerce, Institute for Educational Leadership, Voto Latino, Middle Eastern Institute, National Academy of Sciences, and more. Thanks to the generous support of the of individual Cal alumni, the Public Service Center, the Cal Alumni Club of Washington, D.C., the Associated Students of the University of California, the Ambassador J. Christopher Stevens Memorial Fund, and the Residential and Student Services Program, 77 Cal in the Capital interns can continue to make D.C. a Bear Territory this summer. Go Bears!
Cal in the Capital directors Catherine Li, Greta Bedekovics, and Shawna Hulsey