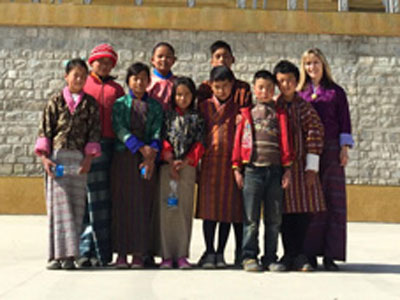 In her own words: Jennifer Vasta, class of '94, major in Political Science, hometown Elk Grove, recalls how her experience with Cal in the Capital expanded her view of the world and shaped her career and community activities.
Participating in the Cal in the Capital program allowed me to explore my interest in government and I returned to Cal after the summer in Washington with a new — and much more practical — understanding of our political system. I was able to apply this experience directly to my political science studies at Cal and it informed my decision to go to law school.
After practicing law in both Washington, D.C. and Brussels, I decided to retire at 40 and pursue other interests. I started a nonprofit foundation, The Pika Foundation, to help children in developing countries obtain an education. Without an education, they have no ability to pull themselves and their families out of poverty. Experiencing the transformation in the lives of the children and their families has been a life-changing experience and one that I am grateful that I can help provide. I now travel for a good part of the year, both for my Pika Foundation work and for pleasure.
My public service experience, and my time at Cal in general, taught me to take a more expansive view of the world, which directly affected my career path and my later community service activities. I moved abroad 13 years ago and though I am far from Cal, it has remained a significant influence on my life.
Jennifer Vasta with students, in front of the Buddha Dordenma Statue in Bhutan